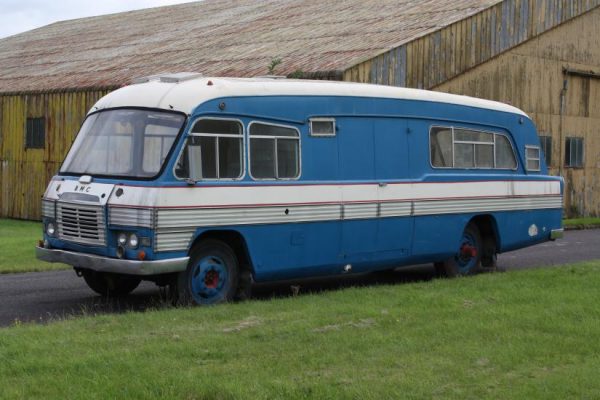 A 1963 Pininfarina bus, coachbuilt for theBMC Competition Department. Coach building at its best!
Product Description
Features:
BMC Technical Support Vehicle 1963
British Motor Corporation
Rare Support Vehicle used in the 60's & 70's
5 Litre BMC Engine
Double side doors for Engine Loading
Very straight condition
Coachbuilt for BMC's Competitions Department
1963 Pininfarina coachbuilt vehicle
The rear fins were Pininfarina's trademark
Description:
A 1963 Pininfarina bus, coachbuilt for theBMC Competition Department. Coach building at its best!
6.1 Liter, Inline Perkins Diesel Engine
Fuel Injection
5-Speed Manual Transmission, with 2-Speed Rear Axle
Front and Rear, Semi-Elliptic Leaf Spring Suspension
4-Wheel Air Assisted Hydraulic Drum Brakes
*Believed to be one of only 20 such vehicles built, 2 of which went to USA
*Charismatic British tender/support vehicle
*Ideal paddock support for historic racing
THE BMC SUPPORT VEHICLES
As countless manufacturers have before and since, in the late 1950s the amalgamated British Motor Corporation went racing to sell cars. They established a Competitions Department led by Marcus Chambers, based at Abingdon and created a series of cars which put Great Britain at the forefront of high profile road rallying and racing. This program gave birth to the legendary Works 'Healeys, Mini Coopers and MGs, providing numerous wins for the group and creating cars that have been prized and copied by countless enthusiasts ever since.
Alongside this program, BMC built a series of approximately 20 support vehicles.
Commissioned by the company's management to serve as mobile Service Schools, they travelled around the dealership network training mechanics in the procedures required to maintain the newly introduced, front-wheel-drive Minis. The vehicles were designed by Pinin Farina and built by Marshall's of Cambridge with all-aluminum coachwork, and were equipped to a very high specification.
These vehicles were underpinned by the mechanical aspects of another part of the group, its commercial vehicle division. The amalgamation of Austin and Morris in 1952 to form the British Motor Corporation (BMC) had also resulted in some rationalization of the two commercial vehicle ranges. It led to Austin and Morris badges appearing on otherwise almost identical models, including the Morris-designed forward control FE, which had first appeared in FV form in 1948. Successive versions of these forward control trucks followed and versions with 'Austin', 'Morris' or 'BMC' badges were offered.
With distinctive styling and high quality bodies built on aircraft principles, the support vehicles combined both a large cabin for storage or in some cases the ability to carry cars and were housed in an outwardly appealing and comparatively aerodynamic shell, particularly when compared to the same vehicles in their standard guise.
Once their original work was completed, BMC sold them on, with privateers frequently converting them to become car transporters or race support units.
Product Features
Color

Blue

Size

Big

Weight

130

lbs